Calendrier Militaire
Year II.
Army of Western Pyrenees.
Robert, commanding officer.
6,000 Spanish troops defeated by 600 French troops in the Aspe valley. Many enemies killed.
Marbot, Garrin, commanding officers.
Spanish rout, caused by the Lescun outposts, 100 enemies killed, 300 wounded and 64 prisoners.
Year IV.
Army of Italy.
Buonaparte, general-in-chief.
Massena, Vaubois, Augereau, division generals.
French attack of Santo-Marco. The enemy is repulsed from its lines and from the Pieve and Roveredo posts,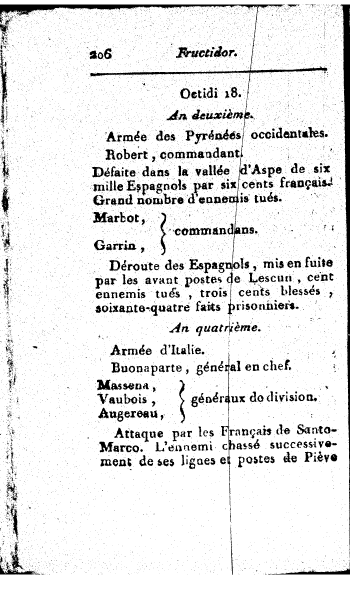 retreats to the La Pietra castle where it is forced to flee. Many enemy casualties, 6,000 or 7,000 prisoners. Capture of 25 cannon, 50 artillery caissons and 7 flags.
Army of the Rhine and Moselle.
Ramel, adjutant-general.
The Philisbourg and Manheim garrisons, with 4,000 armed peasants, attempt to attack the French camp in Brucshall. Their attack is spoiled and they are repulsed until the Philisbourg walls: the peasants are shredded.