Calendrier Militaire
Year II.
Army of the North, Ardennes, and Moselle.
Jourdan, general-in-chief.
Memorable victory at Fleurus, after a 18-hour fight, by 70,000 Republican troops against 100,000 coalised troops; the enemy flees, losing 10,000 men.
Army of Eastern Pyrenees.
Charlet, commanding officer.
Capture of Belver, and the Spanish are completely routed; 100 enemy casualties, 300 prisoners.
Army of Sambre and Meuse.
Kléber, Bernadotte, Poncet, Daurier, commanding officers.
The French prevail against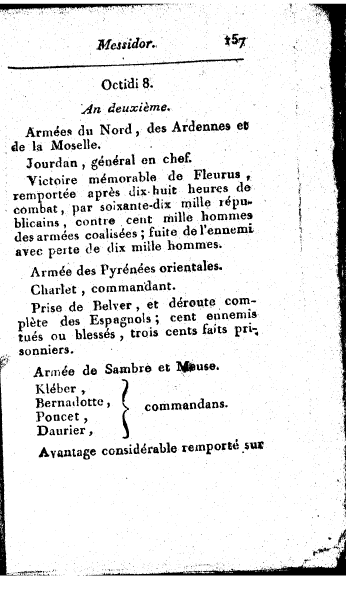 the enemy, at the gates of Lernes, Marchiennes, Monceau and Souvret; the enemy flees and loses many troops.
Year III.
Army of Alps and Italy.
Serrurier, division general.
Petit-Guillaume, brigadier-general.
Defeat of a numerous Piemontese corps, which came to take Ormea; many enemy casualties.
Year IV.
Army of the Rhine and Moselle.
Desaix, division general, commanding officer.
Capture of Offembourg; 200 enemies killed, 200 prisoners; capture of 2 cannon.