Calendrier Militaire
Year II.
Army of the Rhine and Moselle.
Hoche, general-in-chief.
Enemy sortie from the Vauban fort; harsh fight; they are repelled, losing 2 guns and 40 prisoners.
Year V.
Buonaparte, general-in-chief.
Serrurier, Victor, division generals.
Battle of la Favorite: one hour before dawn, the enemy attacks la Favorite; General Wurmser sorties from Mantoue and attacks the blockading lines from Saint-Antoine; but he must come back into the city, losing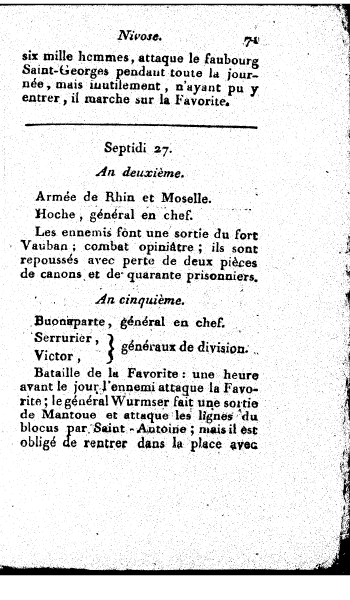 400 prisoners, and many casualties; the enemy column, led by General Provera, is cornered at the Saint Georges suburb; there, 6,000 infantrymen and 700 cavalrymen surrender; they leave 22 guns, many caissons, luggage, etc. etc.