Calendrier Militaire
Year II.
Army of Moselle.
Jourdan, general-in-chief.
Crossing of the Sambre, by the Army of Moselle; invasion of Charleroy; fight at the outposts; the enemy is repulsed everywhere, losing many prisoners.
United Armies of Moselle, the Ardennes, and the North.
Jourdan, general-in-chief.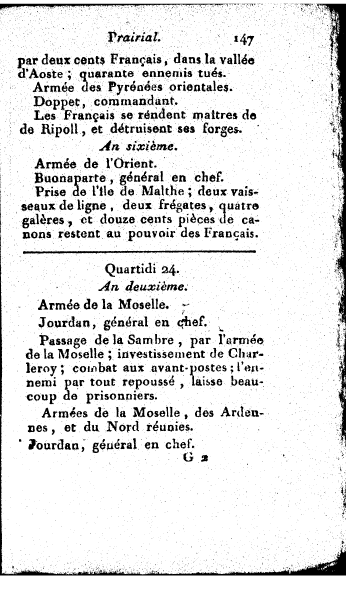 Strong action on several columns which drives off all the outposts of Charleroy, and victoriously reach Gosselies.
Year III.
Army of Sambre and Meuse.
Hatry, general-in-chief, commanding officer.
Capture of Luxembourg; the enemy loses 12,396 prisoners of war, 25 flags, 819 guns, including 467 bronze guns, 16,244 shotguns, 336,857 cannonballs, 47,801 bombs, 114,704 grenades, 1,033,150 pounds of powder.