Calendrier Militaire
Year II.
Army of Moselle.
Renaud, Dufour, division generals.
The fieldworks and highgrounds near Pelingen are taken after a bayonet charge; 400 enemy losses.
Desbureaux, Ambert, commanding officers.
The French storm the Vasserbilich bridge, causing the loss of 300 enemy casualties and 80 prisoners.
Army of the Rhine and Moselle.
Moreau, general-in-chief.
The enemy position in Neresheim is attacked, the enemy is dislodged and loses 450 men.
Army of Sambre and Meuse.
Kléber, interim commander-in-chief.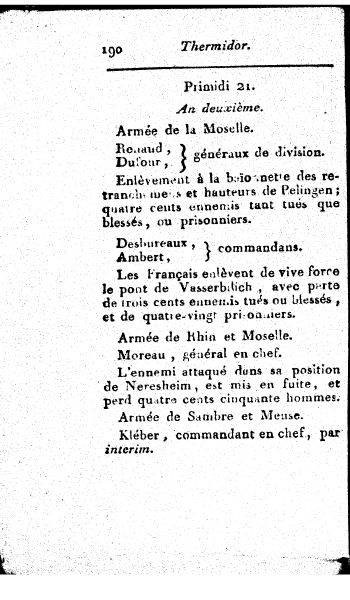 Lefebvre, Colaud, division generals.
Fight on the Rednitz; the enemy is routed and suffers many losses, either killed, wounded or prisoners; capture of Forscheim, 70 cannon and much ammunition.