Calendrier Militaire
Year II.
Army of the Alps.
Prisy, commanding officer.
The Valmenyer post is stormed by a bayonet charge; capture of 2 cannons, many tents, much gear and ammunition; 60 enemies killed, 80 prisoners.
Saint-André, Chamberlhac, commanding officers,
They storm the Beaufort post.
Kellerman, general-in-chief.
Capture of Moutiers and Bourg St. Maurice; the enemy is pushed from the Mont-Blanc territory.
Ledoyen, commanding officer.
The important post at Col-de-la-Madeleine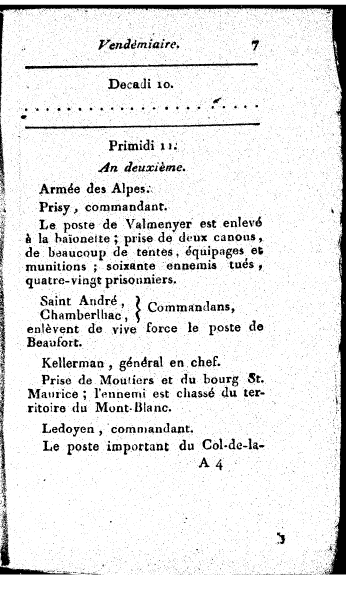 is stormed; many enemies killed or prisoners.
Year III.
Army of Sambre and Meuse.
Jourdan, general-in-chief.
Battle of Aldenhoven, the coalised troops rout is complete; 5,000 casualties.
Year V.
Army of the Rhine and Moselle.
Moreau, general-in-chief.
Desaix, Saint-Cyr, division generals.
The enemy, attacked everywhere, routs completely; many casualties, 5,000 prisoners, including 65 officers; capture of several flags and 20 guns.